We got a new year started off with a huge bang. Only 8 days in, the kids and I flew cross country into the world of Salt Lake City, Utah. We visited my mom and our new family there for 3 weeks. We got to do some really fun things, and enjoyed our trip very much!
We started our trip off by an overnight trip to Baltimore. We wanted to stay the night so that we didn't drive 3 hours to Baltimore, and fly another 5 in the same day. We flew out of Baltimore instead of Richmond, because we managed to land a direct flight!! For someone who had never flown with 2 children, alone, this was crucial! I also decided to break the car ride to Baltimore up with a special surprise for Abbie! She has never been to a Disney store, and fortunately there just happens to be one HALF way between Richmond and Baltimore!!!! LUCKY US... so we rolled into Woodbridge for a visit.
Abbie fell in love with the Elsa doll, and she went home with us!
I have some family in Baltimore, but due to my lack of planning ahead and the serious scatterbrain that came with packing 3 people for 3 weeks... I didn't contact many of them! We did get to see one of my cousins, Nicole, for a little bit on Tuesday before flying out though. I met her youngest for the first time, and she might mine! It was great to see her, and meet Colt!
Abbie & Colt had fun coloring!
Brady playing with Nicole!
After our visit, we bundled up and headed back to the car! IT WAS FREEZING... seriously, some freak arctic cold front came through!!! We headed to the hotel and checked in. After getting to our room, the ONLY thing on Abbie's mind was swimming! We put on our swim gear, and headed down to the pool. I think most people in the hotel thought we were crazy, mainly because of the temperature outdoors. I did NOT swim in the pool! I spent my time in the hot tub!
She is my little fish! She had a BLAST in the pool with Brady & Daddy.
After breakfast the next morning, we loaded up, and headed to the airport. I was VERY anxious, and I wasn't sure how I was going to do the airport thing alone. Then God proved that anxiety was not warranted, and Derik was able to get a gate pass. He went through security and back to our gate with us! He stayed with us until we boarded the plane.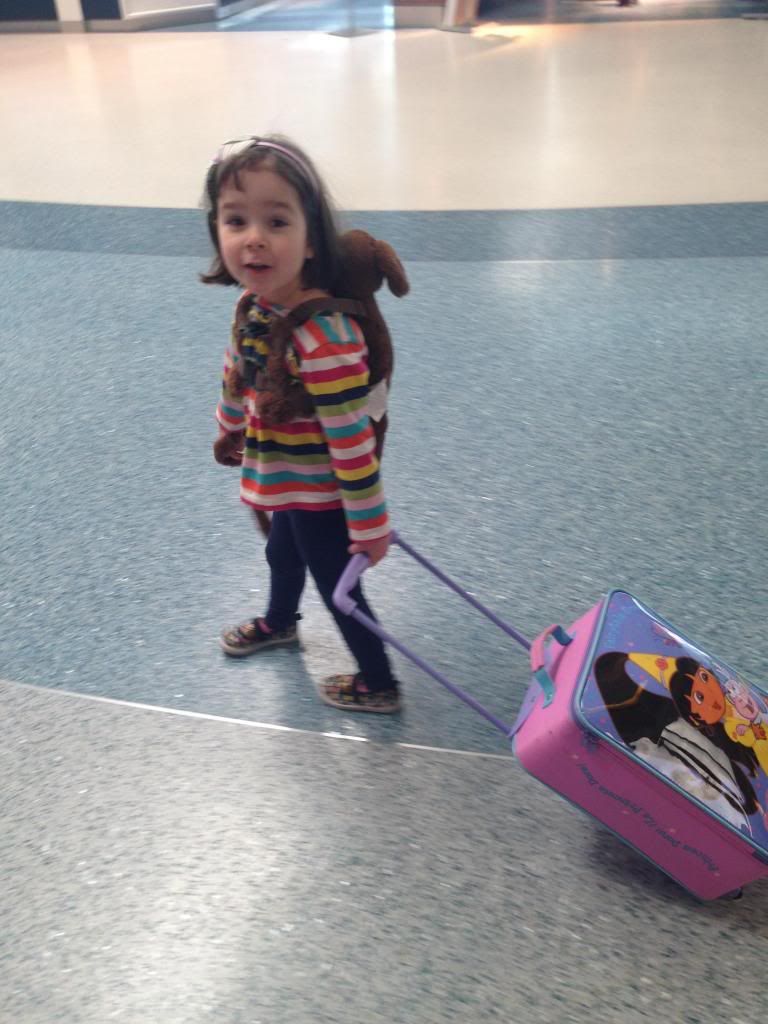 Walking to our gate! She looked so grown up!

Having a snack at our gate!

Trying to calm my nerves!!!
Loading the plane took a hot minute, but the flight crew was extremely helpful and very patient! Since Brady holds a handicap pass, we were able to board the plane first, and able to get seats at the front of the plane.
Brady did smile for this picture, but I assure you... he screamed all 5 hours that we were in air! It was pretty rough, but we made it to the other side, and thankfully... we won't be seeing the other passengers on that flight again anytime soon!
After hugs and pajamas... it was Christmas at Grammy & Grampys!
The kids opened gifts before going to bed!
Brady accomplished this stair the first morning we were there! I was so proud of him!
Reading books with Grammy :).

We decided to take it easy the day after arriving. After such an exhausting 2 days, and a 2 hour time change, we needed a down day. The kids explored the house and we had a fun day of playing! We only had a few days like this while there, so it was a fun! I will follow with more posts of our family adventure in Utah! 3 weeks of fun is too much for 1 post!
- Jessica